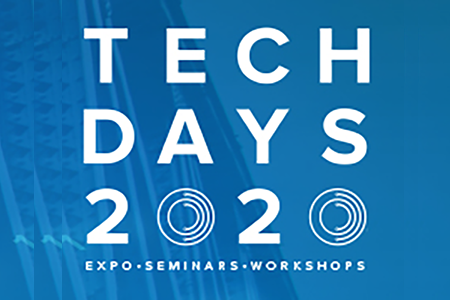 ---
Unfortunately Tech Days 2020 is on hold as a result of the COVID-19 pandemic – a number of the presenters are planning to release webinars over coming weeks / months. If you have a specific area of interest or would like more information about upcoming webinars email [email protected] or call 04 04 123 711
kind regards
John Salerno

Tech Days 2020
Dedicated Systems in conjunction with its suppliers and technology partners is pleased to announce our 4th Tech Days events to be held in Adelaide.
Tech Days has been designed as a way to provide up to date information to software and systems engineers, systems architects, hardware engineers, engineering managers and researchers involved in the design and build of highly complex systems, with performance, reliability, safety or security requirements.
Subject matter experts from leading technology companies will be presenting and be available throughout the day to discuss your applications and answer any queries you may have.


---
Tech Days Registration Form
AGENDA 2020
Adelaide – Tech Park, Mawson Lakes
25th March 2020
8.30am
Exhibition and Registration
9.00am
Welcome & Introduction – John Salerno, Dedicated Systems Australia
9:30am
Modernising Modeling, Simulation and Training Systems – Dr. Howard Wang, RTI
10:15am
Morning Tea
10:30am
Verifying multicore timing behavior for DO-178C – Dr. Guillem Bernat, Rapita Systems
11.15am
Secure the creation of next-generation digital systems, on earth and beyond – Kiran Kumar, Wind River
12:00pm
Lunch (sponsored by Wind River)
12:45pm
Next Generation Graphics – GPU Shader and Compute Libraries – Robert Pickles, CoreAVI
1.30pm
Left Shift Embedded Software Development & Testing – Kiran Kumar, Wind River
2.00pm
Scaling with Qt, from Design to Development and Deployment of modern HMI – Sumitabh Ghosh, Qt
2:45pm
System Engineering: Requirements to Architecture to Simulation – Alex Shin, MathWorks