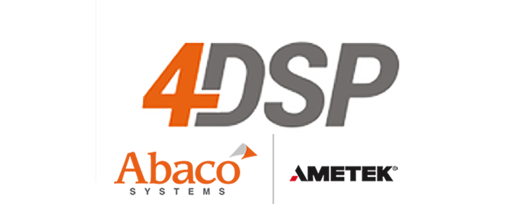 Digital Signal Processing
4DSP, a subsidiary of Abaco Systems and AMETEK, designs and manufactures commercial off-the-shelf (COTS) products for digital signal processing and data acquisition. Their offering includes intellectual property for FPGAs (IP cores), boards in different form factors, packaged products and custom systems—and gives us an even more compelling proposition in radar, sonar, electronic warfare, surveillance, signals intelligence and much more, all of which are key applications for mission ready systems.
PRODUCTS
FPGA Boards
Take advantage of FPGA cards built on open standards and with a high degree of configurability in order to address a wide range of applications – without the expense and extensive development time of custom in-house developments
FPGA Mezzanine Cards
FMCs bring modularity to high performance I/O – whether you need high bandwidth ADCs and DACs for radar applications, Gigabit Ethernet for digital communications, or clock and trigger distribution for multi-board synchronisation.
FPGA Systems
Leverage Abaco/4DSP's development platforms and rugged FPGA based systems that provide a rapid migration path from the lab to the field – without having to re-architect an entire system.
FPGA DSP Board Support Package
4DSP's Board Support Packages help customers get their hardware implementation underway as quickly as possible by providing reference designs, the Stellar IP FPGA development tool, and the 4FM GUI user interface for controlling and monitoring the hardware, as well as other supporting elements. The package comes with three main components: host tools, FPGA tools and diagnostic tools.
DEDICATED SYSTEMS
Dedicated Systems Australia is the leading supplier of Embedded System Software, Firmware and Hardware in Australia and New Zealand. We represent Abaco/4DSP to bring high quality products to our customers in industries with demanding image and signal processing requirements.
WE HELP OUR CUSTOMERS TO:
Capture and meet their requirements
Build reliability, modularity, and re-usability into their products
Get to market on time and on budget
Future-proof their design