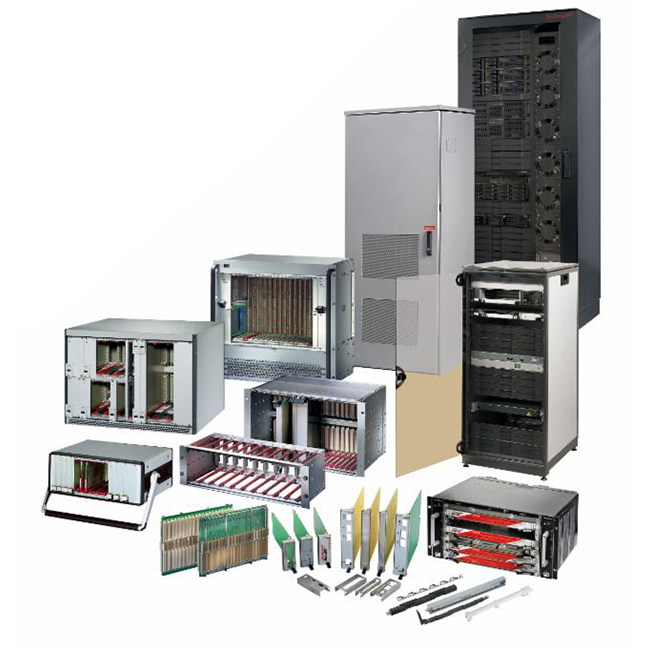 The Schroff brand contains a broad product portfolio from printed circuit board (PCB) accessories, such as card retainers and extractors, front panels and handles to subracks, cases, backplanes, power supplies, cabinets and pre-assembled chassis for embedded computing systems.
Schroff, which belongs to the business unit of nVent Technical Solutions, has been a world leader in electronics packaging for over five decades.
CAPABILITIES
Safeguard systems with shock and vibration-resistant ruggedised product range
Compatible with international standards for Electronics Packaging
Ensures flexibility for standard, modified and completely customised solutions
PRODUCTS
19" Racks & Electronics Cabinets
Cabinet series include:
• Novastar: Aluminum frame cabinets
• Varistar: Robust welded steel frame electronics cabinets
• Labracks
• Outdoor electronics cabinets
Electronic Cases
Enclosures for the installation of individual printed circuit boards or for installing multiple euroboards on a backplane
Subracks, 19" Chassis & Accessories
Flexible product platform for installing electronic components into cabinets and enclosures
Market-leading EMI/EMC shielding
Available in kits
Backplanes
A broad backplane portfolio in accordance to several PICMG and VITA specification to provide a fitting configuration for any application
Power Supply Units
A wide range of pluggable power supplies and selection of open frame power supplies for open standards. Broad product families of pluggable Power Supplies with H15 connector for fanless applications.
RELATED TECHNOLOGIES
VME, VXS, VPX
CompactPCI
AdvancedTCA
MicroTCA
DEDICATED SYSTEMS
Dedicated Systems Australia is the leading supplier of Embedded System Software, Firmware and Hardware in Australia and New Zealand. We represent Schroff/nVent to bring high quality products to our customers in industries requiring customised and ruggedised 19″ enclosures and systems.
WE HELP OUR CUSTOMERS TO:
Capture and meet their requirements
Build reliability, modularity, and re-usability into their products
Get to market on time and on budget
Future-proof their design