VP780 Virtex™ 7 3U VPX
VP780 Virtex™ 7 3U VPX
VITA 46 Compliant with FMC site and optional VITA 67 I/O
The VP780 is a high-performance Virtex-7 VPX card with advanced digital signal processing capabilities. The design has been optimised for the implementation of complex FPGA algorithms with high throughput requirements.
Optionally conduction-cooled, the VP780 is in the 3U VPX form factor, offering up to 10GBytes of DDR3 SDRAM and additional memory options on 2 BLAST sites. A VITA 57 compliant FMC site makes it possible to easily integrate I/O cards with A/D, D/A, RF capabilities and more.
The VP780 is an excellent choice for high performance applications that require the use of accelerated frequency-domain algorithms such as with FFTs. 4DSP offers many off-the-shelf Intellectual Property (IP) cores for applications that require the highest level of performance.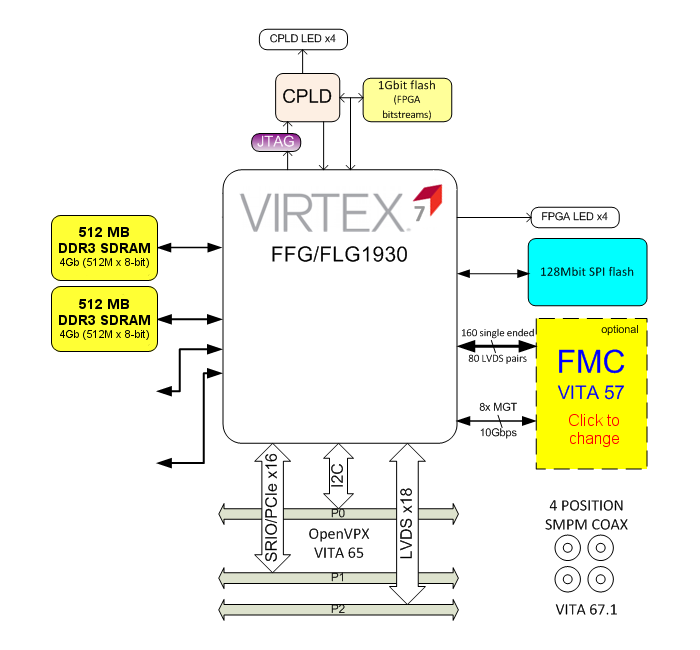 Features:
Virtex-7 XC7VX485T, XC7VX690T, XC7VX980T, XC7VX1140T
2GBytes of DDR3 SDRAM in 4 independent 8-bit banks.
High density Memory Options using BLAST sites: additional DDR3 SDRAM (8Gbytes), QDR2+ SRAM, NAND FLASH.
VPX VITA 46 Compliant
Optional VITA 67 I/O
Front Panel FPGA Mezzanine Card (FMC)
Uart over USB
Heat sink available for air cooled applications.
Clamshell available for optimal heat dissipation in conduction-cooled applications.
This product can be used in the VPX360, VPX361 and VPX362 ATR System.