Newsletter Issue #44 – October 2015
With three new staff members joining the team, this year has been one of our busiest on record. In between getting everyone up to speed, meeting customers and adding new suppliers, we've also found time to introduce a new logo and website.
To mark the occasion we are currently giving away t-shirts and stubby holders featuring the new Dedicated Systems brand. Either give us a call on 08 8299 9333 or email [email protected] to select the colour/size of your tee or your stubby holder.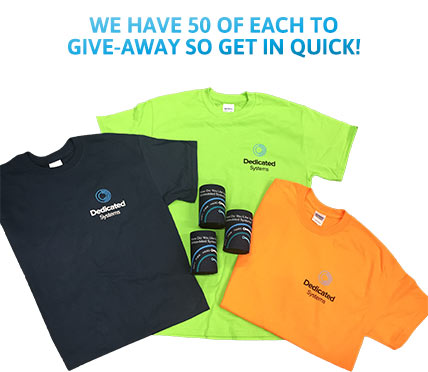 Featured Stories
1. RTI introduces first Edge-to-Cloud connectivity software for the Industrial Internet of Things (IIoT)
2. Polarion® releases VARIANTS™ and new 2015 versions for Polarion ALM™, Polarion RM™, and Polarion QA™
3. Pentair presents subracks for high shock and vibration requirements
4. Introducing UEINet: For a wide variety of distributed data acquisition, control and SCADA applications
5. Dedicated Systems Australia signs distribution deal with Core Avionics & Industrial Inc.
6. 4DSP introduces Xilinx SDAccel support and UltraScale FPGA performance for its compact embedded system
7. LuciadRIA and LuciadLightspeed training – registrations open for November 2015