USB Multi Avionics Interface
The USB MULTI family of pocket-sized USB adapters enable computers to communicate with, simulate, test, and monitor avionics equipment and systems.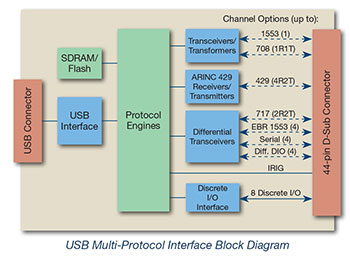 These rugged USB 2.0 peripherals feature a combination of different protocols in a single device. This provides greater convenience and cost savings when interfacing to multiple databus types. They are compatible with virtually all modern PC laptop, desktop, and tablet computers, and all power necessary for operation is provided via the single USB port. Plug and Play and Hot Swap features make them easy to install and move between computers.
Interface USB to Multiple Avionics Databus Protocols with a Single Unit
Available Protocols

MIL-STD-1553
EBR 1553
ARINC 429
ARINC 708
ARINC 717
RS-422/485/232 Serial
Discrete I/O

8 Avionics Discrete I/O
IRIG A/B PWM and AM
USB 2.0 Bus Powered—No External Power Supply Needed
32 MB Data Memory
RoHS Compliant Design
Standard Black or Flight Test Orange Case
Small, Portable, and Rugged
Boards also available without enclosure for embedded use
Please contact us for more information or to request a quote.
Protocol Key
1 = MIL-STD-1553 (B: Bus Monitor, S: Single-function, M: Multi-function)
2 = ARINC 429 (4R2T)
3 = ARINC 708 (1R1T)
4 = ARINC 717 (2R2T)
5 = EBR 1553 (4 ports)
6 = Serial (4 ports)
Hardware Only
Hardware & CoPilot*
1
2
3
4
5
6
Options
*Includes CoPilot analysis & test software
**nRnT = number of Receive/Transmit Channels
To order, add the appropriate suffix to the above part number.
Example: UA1133/NE
/FTO – Flight Test Orange case (black case is standard)
/NE – No Enclosure, Printed Circuit Board Assembly only, for embedded use
/FXY – Conformal coating (Parylene)