PC870 – Virtex/Kintex UltraScale™ PCIe Gen3 Card | Single-channel, 5GSPS 10-bit ADC & Single-channel, 5GSPS 10-bit DAC
Virtex/Kintex UltraScale™ PCIe Gen3 Card
Single-channel, 5GSPS 10-bit A/D
Single-channel, 5GSPS 10-bit D/A
The PC870 is a high-performance, PCI Express (PCIe) card with advanced DSP capabilities and multiple I/O options. The card is adapted from 4DSP's Virtex/Kintex UltraScale-based PC820 FPGA carrier card, which features DDR4-2133 SDRAM SO-DIMM and a PCIe Gen3 interface that can support up to eight lanes. The PC870 additionally provides one 10-bit analog-to-digital (A/D) channel at 5Gsps and one 10-bit digital-to-analog (D/A) channel at 5Gsps. The low-latency data path enables 2.2GHz of instantaneous bandwidth in both the receive and transmit directions.
The PC870 allows for flexible control of clock source and sampling frequency through I2C communication. The card also features a single-lane SFP+ module as a serial peripheral interface, and an eight-lane 14 Gbps FireFly connector is available as an optional interface. The FireFly connection can be made accessible either from inside the chassis or, alternatively, from the bezel if the SPF+ cage is removed.
The PC870 is an excellent choice for high-performance applications that require large-band signal digitization or generation through the use of accelerated frequency domain algorithms such as RADAR/SONAR, wireless telecommunications, and aerospace test and measurement instruments.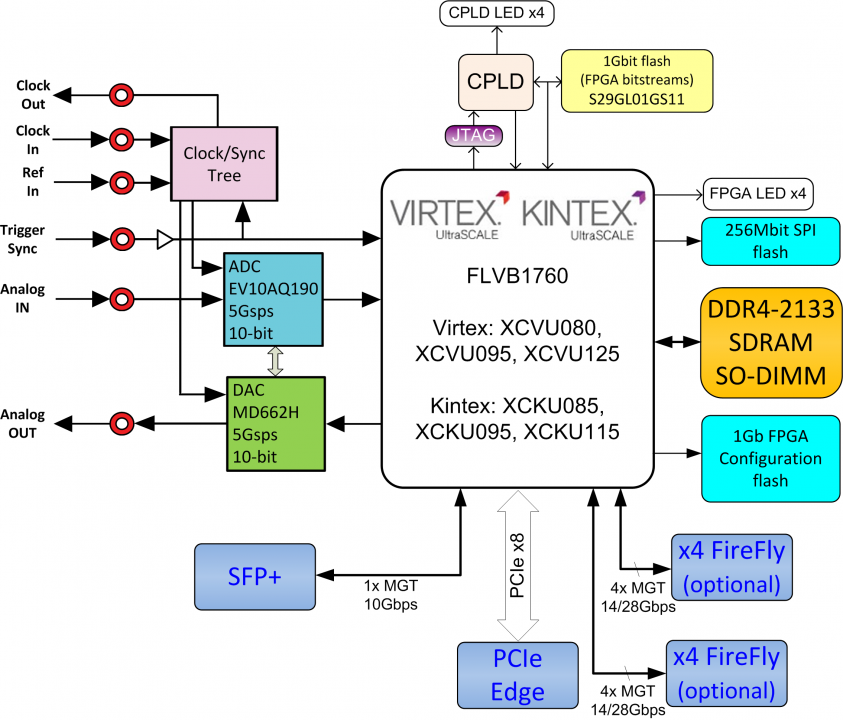 Features
Virtex UltraScale (XCVU080, XCVU095, XCVU125) or Kintex UltraScale (XCKU085, XCKU095, XCKU115)
Single-channel, 10-bit A/D up to 5GSPS
Single-channel, 10-bit D/A up to 5GSPS
PCIe Gen3 x8
DDR4-2133 SDRAM SO-DIMM
1Gb FPGA configuration flash
256Mb Serial Flash
Single-lane SFP+ interface
Bidirectional x8 FireFly connection (optional)
AC-coupled analog signals
LVDS IO signaling between A/D, D/A, and FPGA for low latency
6 SSMC or MMCX front panel connectors
Clock source, sampling frequency, and calibration through I2C communication
Flexible clock tree enables:

Internal clock source
External sampling or reference clock

Power-down modes to switch off unused functions for system power savings