Schroff Interscale M – New case combines quality with affordability
STRAUBENHARDT – With its new Schroff Interscale M range of cases, Pentair is breaking new ground in technical terms, that is, going beyond the 19"industry standard to include cases for small and non-standardized PCBs. What is highly attractive about these new cases though, is that they also have a very competitive price point.
Research conducted prior to the development of the cases showed clearly the diversity of the market. What was wanted was a small, compact construction that is also robust, with ease of assembly and convenient mounting options for the electronics inside. The cases should also be of high quality, offer EM interference protection, an attractive look with customised printing and be available in a wide range of standard sizes. Modification options and customised alterations were also sought after, along with a range of delivery options and, above all, an attractive price. In short, a low-cost box that is capable of meeting individual user requirements.
The result is a case corresponding to IP 30, consisting of just four parts that can be easily assembled and dismantled with two screws. A total of 21 case sizes are available direct from stock. EM interference protection is provided by the interlocking case walls and offers some 20 dB at up to 2 GHz. A wide range of standard accessories, e.g. flexible board fixing, various add-on feet, a range of fans and fixing elements, allows the user to integrate his electronics quickly and simply. Removable front and rear elements give easy access to the electronics. The highly flexible Schroff Interscale M case can be still further individualised by means of extra modifications such as case color, cut-outs and printing on the front and rear panels. From the prototype phase through to series production, all aspects are oriented to the customer's needs.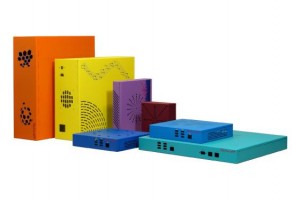 Further services are also available such as pre-fitting of all components, including accessories and heat simulation using FloTHERM or a wind-tunnel test. A range of delivery options help customers to determine the cost of their cases.
This new case platform has been designed to offer the customer, in conjunction with the services mentioned, a wide scope of options in both technical and price terms. Further information is available at www.schroff.co.uk/InterscaleM