VP868 Dual UltraScale 6U VPX
VP868 Dual UltraScale 6U VPX
Dual FMC+ Sites, On Board Zynq Processor, Open VPX
The VP868 is a high performance 6U OpenVPX (VITA-65) compliant plug-in module with advanced digital signal processing capabilities. At the center of the VP868 is a Zynq dual Arm-9 device for processing offload and board management.
The VP868 processing power comes from two Xilinx UtlraScale FPGAs with over 100Gb/s duplex inter-chip communication bandwidth. An optional storage and I/O expansion module is available supporting SATA/PCIe solid state drive technologies. The VP868 includes flexible I/O with two VITA 57.4 compliant FMC+ sites. The board includes support for both Kintex and Virtex UltraScale devices with a migration path to UltraScale+ devices.
The VP868 is ideal for applications requiring both high performance processing and I/O with the ability to scale from the lab to deployed rugged environments.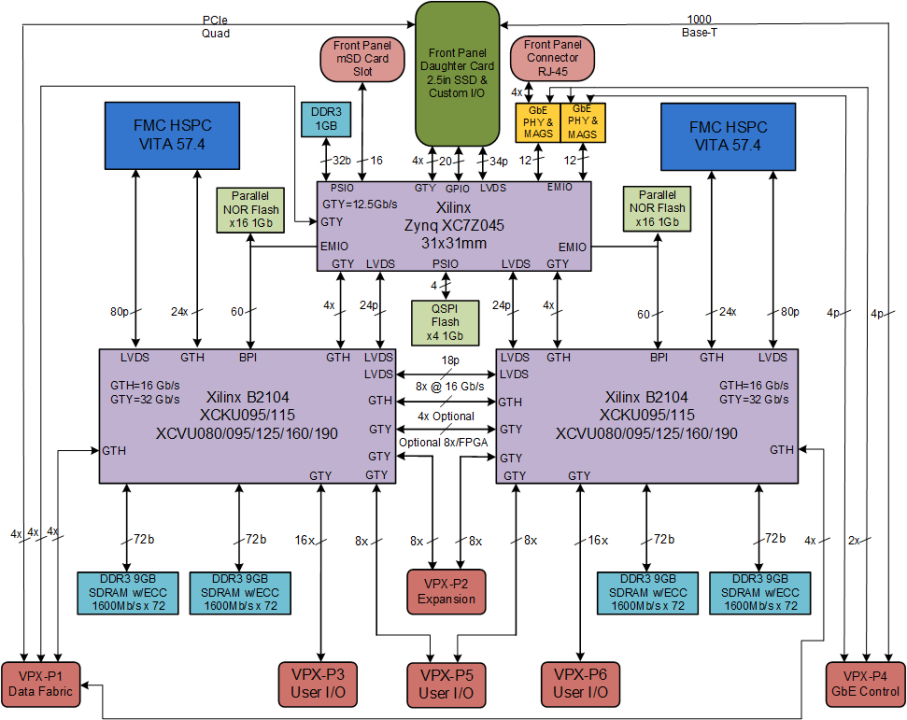 Features
Dual Xilinx UltraScale FPGAs

Kintex Ultrascale: XCKU095, XCKU115,
Virtex Ultrascale: XCVU080, XCVU095, XCVU125, XCVU160, XCVU190

Over 100 Gb/s Inter FPGA Communication Bandwidth
Dual FMC+ Sites (Vita 57.4)
Support for All 4DSP FMC Modules
Support for all Vita Compliant 3rd Party FMC Modules
Embedded Zynq Processor with 1GB DDR3 Memory
2x GigaBit Ethernet with 4DSP IP Core
36 GB Onboard DDR3 SDRAM Memory w/ ECC
VITA 65 OpenVPX Compliant
Expandable Storage with SSD Daughter Card
High Performance 4DSP PCIe IP Engin