OPC-UA Upgrade for UEI PowerDNA chassis
Convert any UEI PowerDNA hardware to support OPC-UA
Upgrade any PowerDNA hardware to take advantage of the unprecedented combination of features offered by the UEI OPC-UA series. Introduce the flexibility, high performance, low cost, ruggedness and small size of OPC-UA to the development of your application.
Features
Upgrading to the UEI-OPC-UA series will allow any of your current PowerDNA chassis to support the following profiles and facets:
Server Profile: Embedded UA Server profile
Transport Profile: UA-TCP, UA-SC, UA Binary
Security Profiles:

SecurityPolicy – Basic256Sha256
SecurityPolicy – Basic256
SecurityPolicy – None

Access Types: Data Access, Historical Data Access
UEI's OPC-UA web based I/O configuration tool makes it very easy to configure your system and prepare it to connect to your OPC-UA server. The web based tool also allows you to select the channels you wish to store in the Historian for future reference.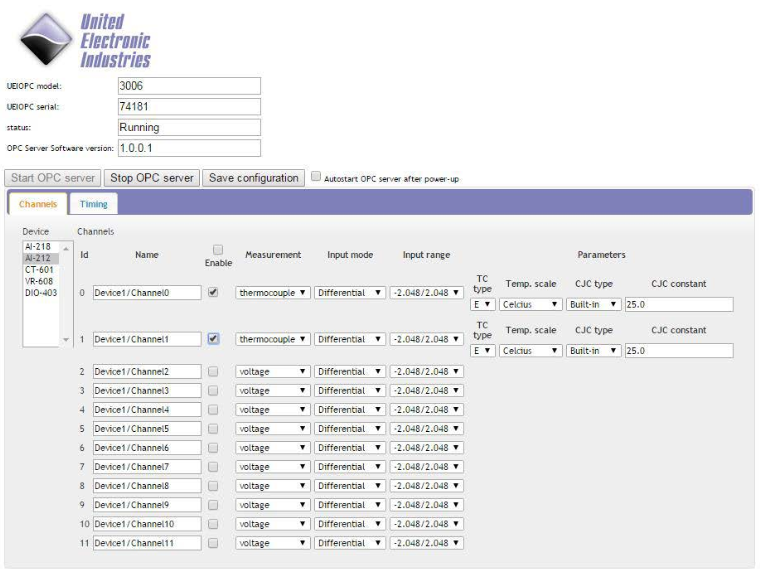 OPC-UA support renders any PowerDNA chassis compatible with over 40 different I/O boards, providing the functions listed below:
Input Boards
Output Boards
0-20 / 4-20 mA input
Thermocouple input
RTD input
Strain and Wheatstone Bridge input
Voltage input
Digital I/O
Speed/Frequency Input
Quadrature Encoder Input
0-20 / 4-20 mA output
Voltage Output
Digital Output
Relay Output
Plus many more