PC821 – Virtex/Kintex UltraScale™ PCIe Gen3 Card | One FMC+ (HSPC) & One FMC HPC Expansion Sites
PC821 Virtex/Kintex UltraScale™ PCIe Gen3 Card
1x FMC+ (HSPC) and 1x FMC HPC Expansion Sites
The PC821 is a high-performance, PCI Express card with advanced DSP capabilities and multiple I/O options. It supports one VITA 57.4-compliant HPC FPGA Mezzanine Cards (FMCs) and one VITA 57.1 compliant HPC FMC site. Both FMC sites are closely coupled to the Virtex or Kintex UltraScale FPGA and a DDR4-2133 SDRAM SO-DIMM.
The PC821s PCIe Gen3 interface can support up to eight lanes. The card features a single-lane SFP+ module as a serial peripheral interface. An eight-lane 14 Gbps FireFly connector is also available as an optional serial peripheral interface. The FireFly connection can be made accessible either from inside the chassis or, alternatively, from the bezel if the SPF + cage is removed.
The PC821 is an excellent choice for high-performance applications that require large-band signal digitization or generation through the use of accelerated frequency domain algorithms.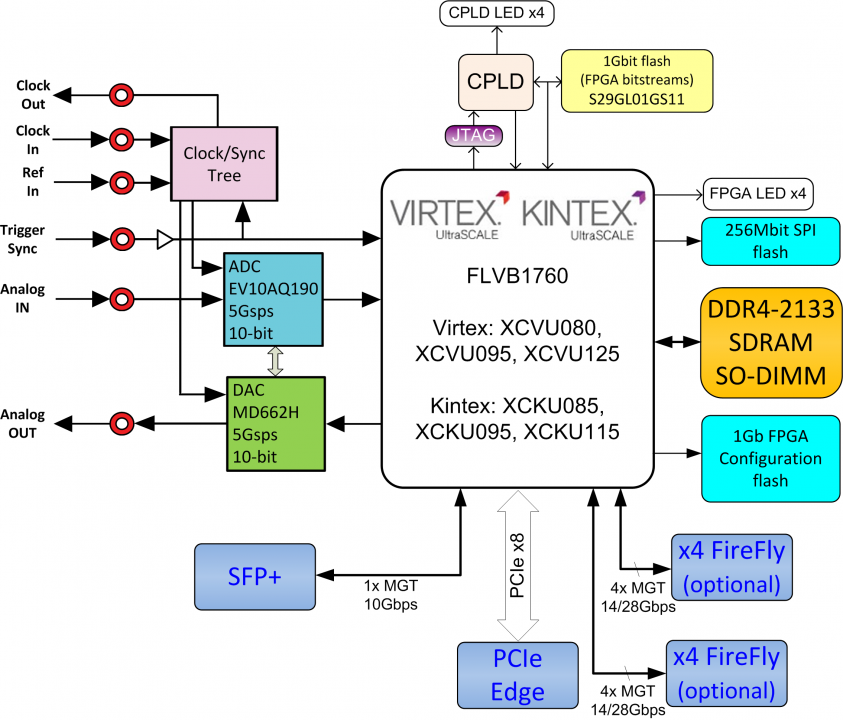 Features
Virtex UltraScale (XCVU080, XCVU095, XCVU125) or Kintex UltraScale (XCKU085, XCKU095, XCKU115)
PCIe Gen3 x8
1x Primary FMC HPC (front)
1x Secondary FMC HPC (rear)
DDR4-2133 SDRAM SO-DIMM, 8GBytes
1Gb FPGA configuration flash
256Mb Serial Flash
Single-lane SFP+ interface
Bidirectional x8 FireFly connection (optional)
CPLD on board
Standalone Operation (optional)